Home >
Dai-ichi Life's Asset Management (General Account)
Dai-ichi Life's Asset Management (General Account)
Basic Policy on Asset Management "Expand Medium- and Long-Term Return through Rigorous Application of ALM"
Formulation of Asset Management Policy Aimed at Capturing Long-Term, Stable Return
We have formulated an asset management policy for the medium to long term designed to achieve stable return over the long term, which is required of life insurance assets. Based on the direction of the medium- to long-term asset management policy, we formulate a short-term policy as a guidance for each fiscal year so that we can respond flexibly to changes in the insurance market and the investment environment and achieve further return.
Construction of an Asset Portfolio Suited to Life Insurance Product Characteristics
Insurance products are highly individualistic, and we have set classifications by product features to ascertain detailed liability information. The result of this analysis is reflected promptly in the formulation and revision of the asset management policy and in actual asset management execution. In this way, we aim to construct an asset management portfolio more suited to the nature of products through asset and liability management (ALM).
Rigorous Management and Analysis of Investment Risk to Ensure Safety
Since safety is also a requirement for management of life insurance assets, our asset management policy is formulated in line with rigorous investment risk management standards. In addition, we conduct daily measurement and evaluation of the results of our actual investment activities and the status of assets that we hold, as well as risk monitoring.
Asset Management with Awareness of the Public Nature
The life insurance business is highly public in nature, being closely involved with stability and improvement of national living standards, economic development and the achievement of a sustainable society. Therefore, in addition to profitability, safety, and liquidity, we must also consider the public aspects of asset management. As part of this, we are actively promoting responsible investment (ESG investment and stewardship activities).
Asset Management Policy for Fiscal 2018
Our asset management policy for fiscal 2018 is to continue investing in a portfolio centered on fixed income assets, such as Japanese government and domestic corporate bonds, with a view to ensuring stable profitability. In addition, risk assets such as domestic stocks and foreign securities, which are mainly to improve our investment profitability through diversification, were allocated flexibly while paying attention to market trends. We continued to promote investments in new fields and improved the quality of the portfolio.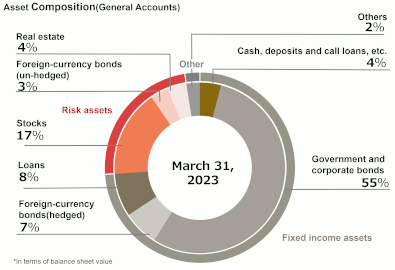 To build a portfolio tailored to the characteristics of life insurance products, the Asset Management Policy is formulated by the Investment Planning Division working together with the Product Development and Management Division. Based on this policy, the Investment Planning Division decides the asset allocation, and the Investment Division carries out execution of investments while ensuring relatively high-performing earnings in each market. Furthermore, the Investment Planning Department plays a central role in developing specialized skills through dispatching trainees to domestic and overseas financial institutions, appropriate job rotation, and regular follow-up, and establishing a system for sharing ezpertise throughout the organization. In addition, we have established systems for stable management by assigning personnel appropriately based on their specialization and experience to the Investment Planning Division, Investment Division, Risk Management Division, and Investment Administration Division.

Ourasset management process is based on a PDCA cycle. It incorporates analysis and verification as appropriate, utilizing feedback on information relating to asset management risks and returns to undertake improvements. Cooperation with the Product Development and Management Division is incorporated as an important factor, and the structure is designed to reflect liability information at all times while ensuring thorough application of ALM.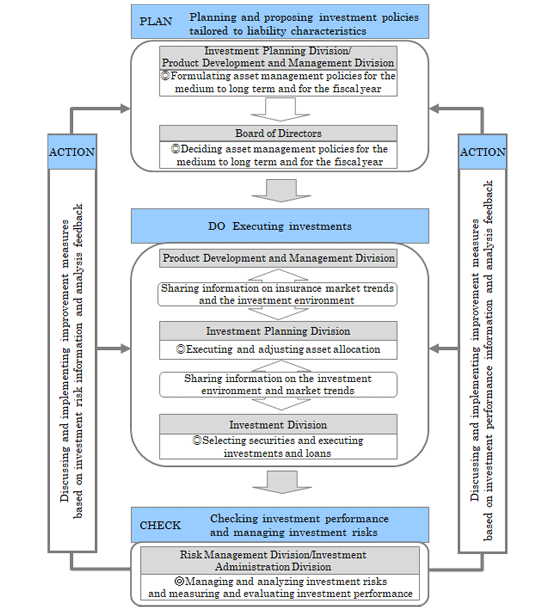 Management of Investment Risk
Definition of Investment Risk
Investment risk refers to market risk (the risk of suffering a loss due to changes in the value of the assets and liabilities owned because of changes in market conditions such as interest rates, exchange rates, and share prices), credit risk (the risk of suffering a loss due to a decrease in or eradication of the value of assets because of a deterioration in the financial condition of credit recipients), and real estate investment risk (the risk of suffering a loss due to a drop in income from real estate due to changes in rent, etc. or a decrease in the value of the real estate itself).
Objective of Managing Investment Risk
The Company manages investment risk to maintain the soundness of its assets while remaining mindful of the risk-return balance over the medium to long term.
System for Managing Investment Risk
The Risk Management Department is in charge of managing investment risk. The department conducts centralized risk management of market risk, credit risk, and real estate risk for all of the our assets in coordination with departments responsible for business execution. At regular meetings of the ERM Committee, management shares information regarding each risk to form a system that contributes to decision-making. The effectiveness and appropriateness of these risk management functions are verified by the Internal Audit Department. The Board of Directors and Executive Management Board receive status reports on risk management, and use this information as a basis for making decisions. Furthermore, the Audit & Supervisory Board Members perform audits of the overall risk management of the Company, starting with the management.
◆System for Managing Asset Management Risk