Home >
Stance on Promoting Responsible Investment
Stance on Promoting Responsible Investment
Positioning of Responsible Investment within Dai-ichi Life's Asset Management
Dai-ichi Life has approximately ¥35 trillion in assets under management, sourced from the premiums of approximately 10 million policyholders throughout Japan. As an institutional investor (universal owner), in addition to profitability, safety, and liquidity, Dai-ichi Life must also consider the public aspects of asset management.

Continuous Process Improvement through PRI Assessment
Dai-ichi Life's responsible investment consists of 1) ESG Investment that seeks both to gain better returns and to solve social challenges, and 2) Stewardship Activities that aim to improve the corporate value of our investee companies. Dai-ichi Life systematically implements ESG Investment and Stewardship Activities, respectively governed by the ESG Investment Policy and Stewardship Activities Policy. In 2015, we signed the United Nations Principles for Responsible Investment (PRI), by which we seek to continuously improve our responsible investment processes through PRI's annual reporting and assessment.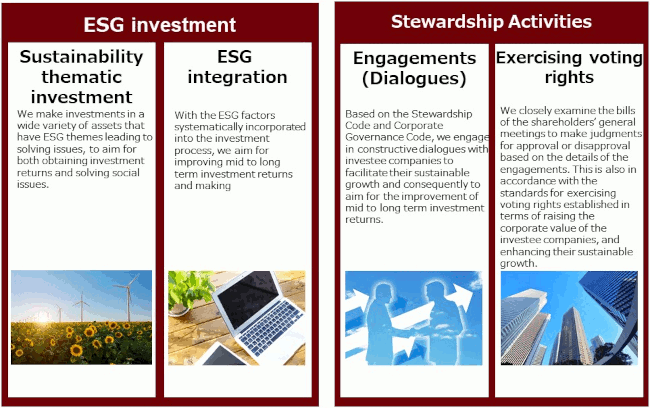 Stance on Promoting Responsible Investment
Dai-ichi Life has established the Responsible Investment Committee, which deliberates on important policies related to responsible investment and the exercise of important voting rights that require individual judgment. The committee also confirms the results of stewardship activities and the status of ESG investment. In principle, more than half of the committee members are external experts on responsible investment and governance. Incorporating outside opinions ensures transparency while achieving continuous improvement.